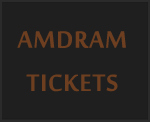 Treasure Island - an adventure for everyone!
Kingswood Community Centre
TICKET SALES SHOPPING CART SOFTWARE JUST £50 PER YEAR
Amdram Tickets is an affordable box office software solution enabling amateur dramatic groups and associations to sell their tickets online. The system has been developed with the needs of amateur theatre groups in mind and we charge just £50 per year for use of the system.